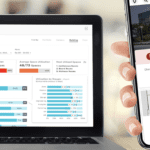 Create a Safe Workplace with Comfy
May 27, 2020
Over the coming months, a certain percentage of the workforce—whether it's select teams, A/B groupings, or employees who require an office set-up—will be returning to workplaces around the globe. The successful reopening of the workplace and the smoothest-possible continuation of business-as-usual will depend on two key factors: how effective new policies and programming are in minimizing health and safety risks within the workplace, and how trusting employees are of said protocols. Fostering a culture of trust among employees has always been a priority for employers; today it's an imperative.
At Comfy and Siemens, we've led the workplace technology industry for years—supporting our end-users with choice and control in the workplace and helping our global clients better manage their increasingly dynamic real estate portfolios. Over the past two months, we've been in close conversations with dozens of Fortune 500 clients about their return-to-workplace strategies and have adapted our feature set to support COVID-19 era needs.
Today, we're pleased to introduce Comfy's Safe Workplace solution, specifically designed to keep employees informed, safe, and productive while simultaneously providing corporate real estate leaders with the space data and analytics necessary to manage and monitor their global portfolios during this unprecedented time.
Keep Employees Well-Informed
There is a lot of anxiety and concern among employees about returning to the workplace amidst COVID-19. According to Qualtrics' recent "Return to Work" survey, 65% of respondents reported being uncomfortable returning to the workplace, yet more than half of the respondents expect to return to the workplace before the end of June.
Employers are actively creating new guidelines and programming to ensure safety in the workplace—whether it's mask pick-up or sanitation stations, closed-off workspaces, new floor/room/desk configurations to accommodate social distancing, adjusted cleaning schedules, and much more—given all the workplace change underway, streamlining all critical employee communications in a single source will best ensure employees are aware of how they can navigate the workplace safely on any given day.
As part of the Safe Workplace solution, companies will get access to Comfy's leading employee-facing app, featuring a configurable homepage that serves as a unified, mobile-first hub for centralizing communications about relevant building, company, and locality information.
Customizable homepage cards are designed to promote the new health and safety measures managers have implemented for employees. Cards can help real estate leaders instruct employees around access protocols, showcase new amenities' details, share real-time site and company guidelines, and provide ready access to modified cafeteria menus and ordering procedures. Cards can even act as a mechanism for employees to voice their opinions by establishing feedback loops via location-based workspace ratings and surveys.
The modularity of Comfy's homepage cards helps keep employees around the globe informed, safe, and productive in new or changing workplace environments.
Provide a Safe and Compliant Workspace
Even under the best of circumstances, employees can struggle to adapt to workplace design changes. In a post-COVID world, the modified workplace will come with heightened sensitivities from employees about interacting with other people and their physical environments. With Comfy's easily navigable map, employees can quickly orient themselves to the changed workplace, search for and easily access the health and safety amenities they need, and even chart safe, one-way paths through the workplace to reach their destinations.
Balancing in-person collaboration and productivity while adhering to local social distancing guidelines will be a challenge in the post-COVID-19 workplace. By displaying the real-time availability of desks and conference rooms and showing which employees are in the office on any given day, Comfy encourages workplace collaboration while complying with social distancing requirements and local mandates.
In addition to this, maintaining proper people density will be vital in the COVID-era workplace. Comfy helps facilitate social distancing and expand sanitation capabilities by allowing real estate leaders to configure the layout of the office. As a result, employees are able to use Comfy to reserve both available desks and appropriately-sized conference rooms in real-time, from the palm of their hand. As you make changes and optimize the workspace over time, you can configure workplace layouts within Comfy's admin console in real-time.
Manage and Monitor the Portfolio
Once the workplace layout has been re-configured and health and safety programming has been implemented, real estate leaders will need to continually iterate and optimize their strategy.
What does space density look like across certain locations or floors? Which areas are higher density and may require further cleaning? Are there lower occupancy floors or areas where employees could be relocated?
With Comfy Insights, our analytics dashboard, real estate leaders can monitor the workplace and better plan workplace initiatives based on data, not intuition. The real-time space utilization data helps real estate leaders get a better understanding of space density and identify areas for further safety improvements. Data from IoT sensor and wifi analytic partners further enhances reporting capabilities.
Adapting the workplace to evolving compliance and employee needs in real-time will be essential for minimizing risk and ensuring employee safety in the COVID-19-era. Backed by the global powerhouse Siemens, Comfy has the flexible workplace technology platform and robust and growing partner ecosystem to support you today, and in the years to come.
For more COVID-19 workplace resources, schedule a demo today.
---