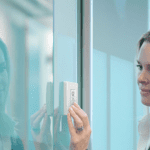 Room Control
Take advantage of programmable room lighting with the flexibility of manual override to create the most comfortable illumination for the task at hand. Experience a modern take on the light switch.
Automated control with flexible override options
Enlighted Room Control options provide all the functions of a standard wall switch with the capability to override automated programming. All options are wireless, making installation easy. Occupants can manually adjust lighting levels to save energy, increase comfort, or tailor illumination for specific tasks. And users can choose from pre-programmed settings through the browser-based software interface or customize settings with a few clicks of a mouse. With an expected battery life of more than five years, minimal maintenance is required. Battery-less options are available that do not require wires and eliminate the need to occasionally replace batteries!
Lighting control at your fingertips
Lets individuals change illumination and lighting configurations
Allows groups of light fixtures to behave in concert
Offers flexibility to pre-set up to six different scenes and light levels
Installs easily on room walls or over existing junction boxes
For regions where building codes require that a manual-on/auto off switch be located in an enclosed space
Options are compliant
Expected battery life of 5+ years for easy maintenance (ERC model)
Battery-less options (EnOcean models)
Did You Know?
Enlighted is the leading provider of IoT solutions for commercial buildings today.
Enlighted Room Control
The Enlighted Room Control (ERC) enables manual control of light fixtures through Enlighted's intelligent lighting control system. The Enlighted Room Control enables you to select preset scenes so that groups of light fixtures behave in concert. It also provides the flexibility to predefine up to six different scenes, with many combinations of light levels accessible at the push of a button. The Enlighted Room Control works with all configurations of Enlighted sensors: Enlighted One, Connected, and IoT.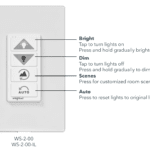 EnOcean Room Controls
NEW BATTERY-LESS ROOM CONTROL
Enlighted's IoT platform is an open system that integrates with third-party devices and software. The battery-less, wireless light switches from EnOcean provide all the room control features needed for an Enlighted system installation, with reduced total cost of ownership by eliminating the need to replace batteries over time.
These devices interact with the Enlighted system via Bluetooth® and work with Enlighted Connected and Enlighted IoT sensors. Models are available for North America and Europe.
Enlighted is part of the EnOcean Alliance.
Learn more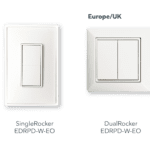 Options include 2-button and 4-button pads. The 2-button pad is ideal for controlling the on/off and dimming function of the lights. The 4-button pad includes the feature to adjust color temperature and is ideal if the fixtures are tunable white. Both the 2-button and 4-button pads can be used to select pre-programmed scenes.
EnOcean Room Controls – more information on EnOcean products is available here.
Illumra Room Controls
Enlighted's partnership with Illumra enhances our offering by adding multiple designs and colors, as well as optional text for the switch portfolio. The light switches are powered by kinetic energy-harvesting technology, allowing them to operate without the use of wires or batteries. A press of the switch converts a small amount of electricity, which transmits a wireless radio-frequency signal to controllers and other Enlighted devices within range. Switches can be mounted in an existing switch box or be surface mounted with screws or double-sided tape. Patented Tamper Resistant technology prevents the rockers from being removed without the use of tools, preventing exposure or damage to the components within the switch. There are four different models with multiple different SKUs that are integrated into the total Enlighted solution controls.
Industry-leading wireless solutions
Learn more
Self-service Community
A suite of tools for design, quote and order requests