Gateway
Capturing vast amounts of time-series data across a wireless network and delivering to a secured cloud environment forms the basis of occupancy-based lighting, temperature control, and IoT data insights. The Enlighted Gateway is the enabling communication device at the center of it all.
The Gateway to smarter IoT-enabled buildings
The Enlighted Gateway is the communication channel between Enlighted Smart Sensors and the Enlighted Manage and is a transition from wireless to wired network. The Gateway relays energy, environmental, occupancy, and Bluetooth data captured by the sensors securely to Enlighted Manage for analysis and reporting and sends back updates and changes to the sensors.
Proven, reliable, and secure
Conduit between Smart Sensors and Enlighted Manage
Range extension of 150-foot radius
Each Gateway sends/receives data for up to 100 sensors
Traffic on wireless network secured with AES 128-bit encryption
Traffic over TCP/IP made tamper-proof with SSL (TSL) encryption
Architecture enables scalability for very large lighting control deployments
Did You Know?
Enlighted's IoT System is now installed in over 410 million square feet of enterprise space.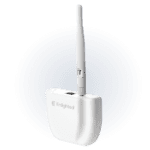 The Enlighted Gateway
| | | |
| --- | --- | --- |
| Length | 3.01″ | 76.5 mm |
| Width | 4.01″ | 101.9 mm |
| Height | 1.38″ | 35.0 mm |
Self-service Community
A suite of tools for design, quote, and order requests