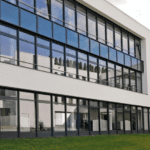 Arvato
Enlighted's workplace intelligence platform will be deployed at Arvato's 30 European offices, advancing the company's flexible future of work.
Enlighted's technology to advance flexible working for Arvato Financial Solutions
Enlighted's workplace intelligence platform will be deployed at the 30 European offices of Arvato Financial Solutions, advancing the company's flexible future of work and promoting an enhanced employee experience. Arvato Financial Solutions, a wholly-owned subsidiary of Germany-based Bertelsmann, is a European Fintech company with 7,000 employees in 15 countries.
Using Enlighted's app, employees will be able to view and reserve available desks and meeting rooms in any office, in near real-time, empowering them to choose the right workspace to suit their tasks. Employees can also use the Enlighted app to view office maps and locate amenities such as sanitization stations, and make requests for cleaning and maintenance. Through an opt-in feature, employees will also be able to share their location and status, allowing colleagues to locate each other within the office and view their availability.
Self-service Community
A suite of tools for design, quote, and order requests
"With the Enlighted platform from Siemens, we will drive the digital transformation of our workplace environment and enable our employees to plan their workday based on their own preferences," said Jan Altersten, CEO of Arvato Financial Solutions.
Enlighted's Insights platform will provide Arvato Financial Solutions a data analytics dashboard with reports on room and desk utilization, enabling real estate decision makers to better understand how spaces are being used, and make data-driven decisions about space management and plan ahead for future needs.
"We're proud to be working with Arvato Financial Solutions to support the company's flexible working model, implementing technology for an enhanced employee experience, the smart management of workspaces and a data-driven approach to the company's future of work," said Franco Castaldini, Vice President of Product Management at Enlighted.
The roll-out of the platform and app will begin immediately, starting with two of Arvato Financial Solutions' main offices in Germany: Baden-Baden in the state of Baden-Württemberg and Verl in the state of North Rhine-Westphalia. This will be followed by other locations in Germany and Scandinavia later this year. All other offices will be enabled with Enlighted through the end of 2022. The Enlighted platform will cover around 63,000 m2 of office space.
"We're pleased that Arvato Financial Solutions has turned to us to find answers to a fundamental question: How can I give employees the right environment so they can work productively, successfully and efficiently? That's exactly where Enlighted comes in," said Matthias Rebellius, member of the managing board of Siemens AG and CEO of Siemens Smart Infrastructure.