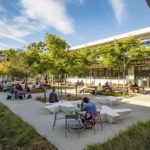 California State University, Long Beach
California State University, Long Beach teams with Enlighted to significantly reduce utility costs and achieve the campus's sustainability goals.
Download the case study
Customer Profile
California State University, Long Beach (also known as CSULB) is a public university founded in 1949 and located 25 miles from Los Angeles. The university is part of the 23 school California State University system and has a total enrollment of approximately 39,000 students. CSULB has one of the largest campuses in the CSU system, including 84 buildings over 322 acres.
Space Types
Academic Buildings
Challenges
Sustainability Targets
Square Footage
101,670 sq. ft. across two buildings
Challenge
The university has made it their responsibility to establish their campus with an IoT foundation for the future as well as achieve sustainability and cost-savings goals.
Solution
The team chose to move forward with Enlighted's platform because its advanced sensors provided several unique benefits to the university. The platform will be used to achieve the following goals:
Retrofit state-operated buildings on campus within 10 years

:

Ensuring all equipment operates as intended, doing BACnet integration to connect the equipment to Enlighted Control, and completely outfitting every building with sensors that will provide the data needed to inform programmatic adjustment of temperature and lighting.
Support the campus's sustainability and cost-savings efforts

:

The university began this project by deploying 1,000 Enlighted LED lights with integrated sensors that enable occupancy data to drive HVAC settings by zone. The sensors provide a reliable basis for comprehensive optimization of the entire energy system. In this way, a roadmap to achieve the university's net zero and energy cost optimization goals can be developed.
Establish the campus with an IoT foundation for the future

:

The university is working to set up the Virtual Enterprise Energy Manager (VEEM) on campus for centralized control. In addition to the new setup, Enlighted will provide continued education to best use data to optimize energy usage.
Results
The university partnered with Enlighted to fully commission their six-story, 101,670 square-foot Engineering and Computer Science building with 1,000 Enlighted LED lights with integrated sensors. This project delivered significant reductions in lighting energy use, as well as a dramatic impact on HVAC energy cost, as this system accounts for a much larger portion of their energy costs. Programming setbacks by zone and setting fans to run only when needed, rather than constantly, delivered real results.
CSULB is actively working with Enlighted to install the cloud-based enterprise energy manager. The project will replace on-prem controls in each campus building with a much more efficient, single-system that provides single access across the campus. 
Self-service Community
A suite of tools for design, quote, and order requests