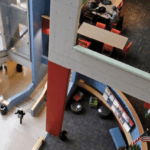 CCAC
Community College of Allegheny County's COVID Mitigation Initiative modernizes campus infrastructure with intelligent lighting technologies to help create healthy, safe, and energy-efficient learning environments.
Download the case study
Customer Profile
Since its founding in 1966, the Community College of Allegheny County (CCAC) is a nationally renowned two-year college with a total enrollment of 42,000 credit and non-credit students across 160 academic and career programs. From groundbreaking student success initiatives to top-ranked academic and career-based programs, CCAC continues to be the college of choice for nearly one out of every three adults in the Greater Pittsburgh, Pennsylvania metropolitan region.
Space Types
Academic Buildings
Challenges
COVID-19 Safety, IoT Objectives, Sustainability Targets
Self-service Community
A suite of tools for design, quote, and order requests
Learn how Enlighted customer CCAC modernized buildings across its four campuses using IoT platform as part of a COVID-19 mitigation initiative and infrastructure upgrade from Enlighted.