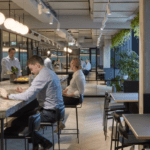 Charter Hall
Enlighted, a leading US-based workplace app provider, is stretching its international reach with one of Australia's largest commercial property groups.
Workplace Experience App and Commercial Property Group Charter Hall Team Up to Deliver Better Workplaces
OAKLAND, CALIFORNIA – (April 2, 2018) – Enlighted, a leading US-based workplace app provider, is stretching its international reach with one of Australia's largest commercial property groups. Charter Hall will be introducing the Enlighted solution to its tenants across its real estate portfolio, starting with 1.2 million square feet (over 100,000 square meters) in four buildings in Sydney and Brisbane. The decision to make the Enlighted solution available to Charter Hall tenants follows impressive results from a Enlighted installation at Charter Hall's corporate headquarters in Sydney last year. In competitive real estate markets around the world, property owners are rushing to add more people-centered workplace technology to attract and retain tenants. The adoption of Enlighted into Charter Hall's larger portfolio reaffirms the strong leadership role both companies are taking to deliver exceptional workplace experiences.
Founded in 2012 and headquartered in the San Francisco Bay area, Enlighted currently works with Fortune 1,000 companies in six countries. The Enlighted solution connects with existing building management systems to create amazing workplace experiences and empower employees to control, connect, and communicate with the people and places around them. At a time when smart technology is becoming more common in the office, Enlighted was the first (and is still the only) personal workplace app designed for individuals to control temperature in their workplaces on-demand. Enlighted recently expanded to offer features such as Lighting, Room Booking, and Work Requests. Enlighted's expansion with Charter Hall comes just weeks after the announcement of Works with Enlighted, a new partner ecosystem with leaders in building automation, connected lighting, occupancy sensing, and indoor positioning.
"Like Charter Hall, Enlighted is committed to putting people at the center of our work and making the office of the future a reality today," said Andrew Krioukov, CEO and Co-founder of Enlighted. "As Enlighted continues to prove to be the world's leading must-have workplace experience app, Australia is an increasingly important international market for us. We're thrilled to work with Charter Hall to deliver an exceptional tenant experience."
Charter Hall Group's more than A$9 billion office portfolio is one of Australia's largest CBD office portfolios and has a strong reputation for a progressive approach to innovative workplace design and technology. As the first Australian company to deploy Enlighted, the Group was recently nominated for the FM Innovation Awards shortlist.
Charter Hall's Innovation Lead – Office, Craig Rodgers, explained that the trial of Enlighted's technology was helping the organization understand the emerging concept of smart buildings and how they can deliver accurate and useful data for connected tenant customer experiences.
"As a productivity partner of choice, Charter Hall is committed to enhancing our tenant customer experiences through innovative workplace solutions. Enlighted is a great example of how we are using leading technology to improve customer experiences in the workplace.
"As one of Australia's largest owners and managers of CBD office assets, we focus heavily on being the workplace experience provider of choice by putting our customers at the heart of every decision we make.
"Enlighted is a game changer to the way we manage one aspect of the occupant experience in our buildings and provides our tenant customers and their people the opportunity to choose the most comfortable working environment for themselves," Mr. Rodgers added.
Enllighted will initially be available to Charter Hall tenants of 1 Martin Place and 2 Market Street in Sydney, 65 Berry Street in North Sydney, and 175 Eagle Street in Brisbane.
Self-service Community
A suite of tools for design, quote, and order requests
About Enlighted
Enlighted is a leading workplace app provider that connects people, places, and systems to create amazing workplace experiences. Headquartered in Oakland, California, with expertise in machine learning, UX design, and enterprise service, Enlighted develops software solutions for everyone–from the people who operate the building to the people who fill it.
About Charter Hall
Charter Hall Group (ASX:CHC) is one of Australia's leading fully integrated property groups, with over 25 years' experience managing and investing in high quality property on behalf of institutional, wholesale and retail clients. Charter Hall has over A$21.9 billion of funds under management across the office, retail and industrial sectors. The Group has offices in Sydney, Melbourne, Brisbane, Adelaide and Perth.
The Group's success is underpinned by a highly skilled and motivated team with diverse expertise across property sectors and risk-return profiles. Sustainability is a key element of its business approach and by ensuring its actions are commercially sound and make a difference to its people, customers and the environment, Charter Hall can make a positive impact for its investors, the community and the Group.
For media inquiries in Australia, please contact Angus Booth Group Manager – External Affairs Charter Hall T +61 2 8651 9223 angus.booth@charterhall.com.au
For media enquiries in the US, please contact Anna Lui – Marketing Communications – Enlighted +510-761-5601