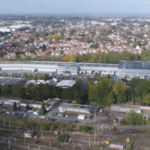 GEODIS
Geodis recognized significant cost reductions in its operations while also installing an IoT platform to achieve ongoing efficiencies.
Customer Profile
GEODIS is the number one Transport and Logistics operator in France and ranked number four in Europe. GEODIS manages its customers Supply Chain by providing industry leading end-to-end solutions driven by innovation and technology. Their international reach includes a global network spanning over 120 countries.
Industry
Supply Chain Operation
Challenges
IoT Objectives, ROI, Sustainability Targets
Self-service Community
A suite of tools for design, quote, and order requests
Learn how Enlighted customer Geodis transformed its logistics operations with the Enlighted IoT Platform.