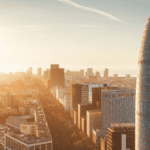 LOOM Barcelona
Enlighted and European partner LEDS c4 provided digital services to human-centric co-working space's need for occupant comfort, energy efficiency and superior design.
Download the case study
Customer Profile
Barcelona-based LOOM provides a flexible coworking office space for a growing number of startup, small, and medium enterprises in Barcelona's growing tech and creative district. Based on three upper-level floors of the prestigious Torre Glòries building, the 2,500-square-metre rental space features private and open offices for companies and individuals, available for rental 24 hours a day.
Industry
Technology and Innovation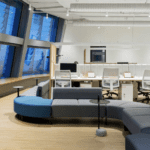 Goals
Optimize energy savings and efficient management of coworking spaces.
Challenge
The LOOM space, located on three upper floors of an office tower, has 360-degree double-glazed windows affording excellent natural light. However, resulting intense lighting contrasts caused worker fatigue and headaches, and a need to comply with EN12464 standards on lighting comfort and glare.
As a human-centric co-working space aiming to optimize performance and creativity, it needed the capacity to monitor and automatically adjust lighting levels in common areas and meeting rooms, and respond to customer demand for occupancy scheduling. It also needed controllable, connected lighting systems to generate differentiated spaces.
Solution
In a complete overhaul of the facility's lighting, Enlighted and its European partner, LEDS C4, installed 150 wireless D4i smart sensors in linear and cylindrical architectural lighting fixtures, creating fully customizable, autonomous lighting that automatically adjusts to conditions based on available daylight and occupancy data. Four default settings can be further tuned with remote monitoring and workstation controls, ensuring adaptability that maximizes user productivity.
Self-service Community
A suite of tools for design, quote, and order requests
Results
The facility has achieved energy savings of up to 85 percent with LED lighting provided by the LEDS C4 Smart Light for Office control, connectivity and digital services solutions. Enlighted sensors drive fine-tuned daylight harvesting and automatic adjustments for lighting and temperature.
The cloud-based data from Enlighted sensors provides real-time reporting and graphic visualization of lighting patterns and flow maintenance, and powers third-party BMS interfaces to create customized lighting and temperature settings. The system's data also powers third-party APIs to provide effortless online space reservations that enable a user-friendly workplace.