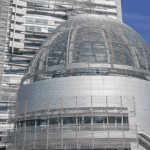 San Jose City
High performance building reaches new heights with Enlighted Lighting Control.
Download the case study
Customer Profile
San Jose City Hall was the country's first city hall to obtain United States Green Building Council (USGBC) Platinum certification for existing buildings in March 2009, the highest possible Leadership in Energy and Environmental Design (LEED) rating.
Challenges
Occupant Comfort, Sustainability Targets
Square Footage
10,000 sq. ft. (one floor)
Challenge
There is an obvious match between the Enlighted sensing and control solution and the challenge of upgrading the vast majority of buildings that have not been designed for energy efficiency. For retrofitting existing buildings, the concept of bolt-on smart sensors and a wireless data back-end makes clear sense. But, what about brand new structures built for high energy performance? Can their comfort be improved and energy spend reduced through intelligent dimming, occupancy control and daylight harvesting? The City of San Jose wanted to find out.
Solution
With one sensor per fixture, the Enlighted system offers the granularity and flexibility to dim, brighten, turn on or turn off lights, according to the space that's being used. The City's facilities team dimmed down lighting to 40 percent maximum light level for the office space covered by Enlighted. With few exceptions, occupants didn't notice or they asked for further dimming. Lighting comfort is a personal preference, but for most people doing screen-based tasks, tuning down overhead lights not only saves energy, it's more comfortable. The system also actively detects worker presence and ambient conditions and makes intelligent decisions about lighting based on these factors in real-time, adding significant occupancy and daylight-harvesting savings to the total.
Self-service Community
A suite of tools for design, quote, and order requests
Results
The City reduced the amount spent on lighting for the space by 53 percent and improved the comfort of employees through personalized light settings. "We already had an aggressive lighting program in place, starting with a sophisticated daylighting design. Yet, with Enlighted, we found that there was still savings to wring out of this building," said Matt Morley, Deputy Director of Public Works, Fleet and Facilities. "Key for me was being able to address the lighting at the fixture level. With Enlighted, I can easily cater to individual needs, yet maintain control of lighting energy usage. I enjoy the challenges of creating comfortable and productive work environments for my colleagues while ensuring that the core infrastructure is reliable, functioning optimally, and saving us money—every second of every day."