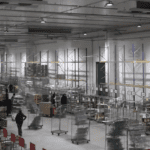 SCHIEVER
Schiever transformed its warehouse operations and achieved significant cost savings with the Enlighted IoT platform.
Customer Profile
Schiever is a French mass retailer with 10 brands, 160 stores, and more than 7,000 employees. Schiever was founded in 1871 and strives to be a continuous innovator, and to adopt sustainable solutions wherever possible.
Market
France, Poland, Tajikistan
Industry
Retail, Distribution
Challenges
IoT Objectives, ROI, Sustainability Targets
Self-service Community
A suite of tools for design, quote, and order requests
Learn how Enlighted customer Schiever transformed their warehouse operations using the Enlighted IoT platform.