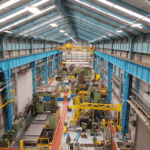 Siemens Energy Parsons Works
Siemens Energy is on track to save over 5.6 million kWh each year with a lighting retrofit from Enlighted at their Parsons Works site.
Download the case study
Customer Profile
Siemens Energy is a global company working in more than 90 countries to deliver innovations to meet growing energy demand while transitioning to a more sustainable world. The company's Parsons Works site, a huge 20,538m² manufacturing facility in Newcastle, UK, produces renewable power generation solutions including gas turbines and cutting-edge hydrogen technologies.
Industry
Manufacturing, Energy
Space Types
Manufacturing Facility, Offices
Challenges
IoT Objectives, Sustainability Targets, Improved Working Environments
Square Footage
221K sq. ft.
Challenge
As a key part of meeting their Energy Efficiency Program objectives, the Siemens Energy Parsons Works site has made it their responsibility to modernize their inefficient discharge lighting system to reduce energy usage. With Enlighted's advanced lighting solution, Siemens Energy will achieve their additional goal of improving manufacturing working conditions with comfortable lighting that can be changed based on working environments.
Solution
The team chose to move forward with Enlighted's platform because its advanced sensors provided several unique benefits to the university. The platform will be used to achieve the following goals:
Retrofit fifteen areas of the facility

:

To modernize infrastructure and reduce energy usage, Siemens Energy upgraded lighting in all 15 areas of the facility, including offices, training areas, the insulation shop, and more than 10,000m 2 of manufacturing bays. Each of the 1,529 fittings is paired with a connected Enlighted sensor equipped with a processor, memory, and upgradeable software. The sensors monitor motion, ambient lighting levels, and temperature, and can be proactively managed. The system measures the actual energy consumption of the installed fittings. This simplified the measurement and verification process that is essential to the delivery of an energy performance certificate (EPC).
Support Siemens sustainability and cost-savings efforts

:

With the goal of achieving carbon neutrality by 2030, Siemens Energy initiated an Energy Efficiency Program (EEP) for their Parsons Works Site. The Enlighted system's task-tuning functionality enables the Parsons Works team to fine tune lighting for each space, which improves comfort for occupants both in offices and on the floor. Significant energy savings include over 5.6 million kWh each year from the lighting upgrade with energy savings over E2M in a single year. Additionally, the company avoids sending the equivalent of 1000+ tons of harmful greenhouse gases into our planet's atmosphere each year.
Results
The university partnered with Enlighted to fully commission their six-story, 101,670 square-foot Engineering and Computer Science building with 1,000 Enlighted LED lights with integrated sensors. This project delivered significant reductions in lighting energy use, as well as a dramatic impact on HVAC energy cost, as this system accounts for a much larger portion of their energy costs. Programming setbacks by zone and setting fans to run only when needed, rather than constantly, delivered real results.
CSULB is actively working with Enlighted to install the cloud-based enterprise energy manager. The project will replace on-prem controls in each campus building with a much more efficient, single-system that provides single access across the campus. 
Self-service Community
A suite of tools for design, quote, and order requests