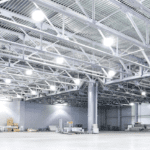 Enlighted Adds Battery-Free Wireless Switches to the Enlighted IoT Portfolio
April 19, 2021
Enlighted has teamed up with EnOcean, a German developer of self-powered IoT technologies, to provide a light switch with an environmental difference and powerful capabilities. EnOcean room controls, an alternative to the Enlighted wireless room control, is entirely battery free. It saves time and money on installation and maintenance, and avoids the environmental problem of spent batteries going to landfills.
The EnOcean room control switch comes in a two-button or four-button configuration, available in two different models to meet standards for the UK and Europe, or Canada and the United States. It is surface- or flush-mounted for quick and easy installation to let building occupants wirelessly control room lighting levels.
Advanced Technology Replaces Batteries
Instead of batteries, the EnOcean switch contains an energy harvesting control that uses the kinetic energy generated from the motion of a user pressing the switch. Its battery less operation is enabled by an electro-dynamic energy transducer which is actuated by the rocker movement. Whenever a rocker is pushed down or released, electrical energy is created, and a set of BLE advertising frames is transmitted, identifying the rocker status of being pushed or released. The data is transmitted via the 2.4 GHz Bluetooth® Low Energy (BLE) radio standard, allowing it to pair with Enlighted smart sensors installed in luminaires within a 10-meter radius.
The Enlighted smart sensors respond to these BLE signals, adjusting lighting to pre-programmed configurations or simply switching on, dimming, or turning off according to user demand. Since the BLE signals from the EnOcean switch are repeating over the Enlighted wireless network by the Enlighted smart sensors, the range of the EnOcean switch is extended over the entire Enlighted network.
Simple Commissioning on the Enlighted Network
EnOcean switches can be added to existing lighting installations, allowing flexibility for retrofits and new builds. Each switch has just three components: the rocker, the central plate, and the external frame, which means they are simple to physically install as surface-mounted controls or flush-mounted over existing switch boxes.
When commissioning, technicians use the Configure app on the Enlighted Manage platform, which associates each switch with a sensor-enabled fixture group. This also enables rapid maintenance, as any switch needing replacement is easily located through the Manage interface.
Streamlined End-User Experience
Because EnOcean switches are entirely battery-free and maintenance-free, they give lighting designers more available choices for switch placement. In addition, the square form factor appeals to architects and designers who prioritize control elements that have maximum aesthetic appeal. And with no batteries to replace, customers can rely on the switches for long-lasting performance, saving on maintenance costs and reducing their environmental impact.
To operate the switches, users press and hold the switch pads to gradually brighten or dim the lighting in the room. They can also tap the switch pads to access customized room scenes that are pre-programmed through the Enlighted Manage platform. If the system has been enabled for Human Centric Lighting or 'tunable white', pressing and holding the switch pads will adjust color temperature from warmer to cooler, and back, to save energy, increase comfort, or customize illumination for specific tasks.
"They can also choose from pre-programmed settings through the Enlighted Manage browser-based software interface or customize settings with a few clicks of a mouse," explains Enlighted's Mike Gershowitz, Vice President of Lighting and IoT Solutions.
Interoperability Enables New Opportunities
Since the Enlighted platform is an open system that integrates with third-party devices and software through Bluetooth® and software APIs, the EnOcean room control integrates seamlessly with Enlighted Connected and Enlighted IoT sensors. As such, this agreement with one of the world's leading IoT hardware producers signals new growth, as Enlighted moves toward more such open-platform relationships, and interoperability with a wide variety of third-party products.
Contact us to find out more about Enlighted and the EnOcean switch.
---