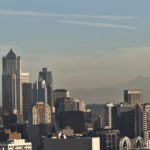 Enlighted Ensures Compliance with Washington State Energy Code (SCEC)
June 16, 2021
The Washington State Energy Code (commercial) is updated every three years most recently in 2018. It regulates the energy use of all new and renovated buildings in the state. It operates alongside the Seattle Commercial Energy Code (SCEC), which was updated in December 2020 and builds on the WSEC with additional recommendations.
The code sets out strict guidelines for energy use, with a set of regulations that have been ranked as among the most stringent in the country. The Washington code took effect in February 2021, and the revised Seattle code goes into force on July 1, 2021. All new builds and renovations will be required to meet the new energy guidelines in their jurisdictions.
Commercial developers, builders and real estate owners will need to ensure any new building, or new renovation, meets increased energy savings targets for lighting, space heating, and building envelopes. The guidelines put an emphasis on saving energy from the beginning of a building's life cycle, with more energy-efficient infrastructure like LED lighting and more effective insulation, built in from the start. But it also applies to renovations, and insists that retrofits meet stringent guidelines for energy savings as well.
For example, interior and exterior lighting in all new builds and renovations will need to be supplied by LED units equipped with dimmable and automatic on-off capacity. They will need sensor controls to automatically switch on when an area is occupied, and automatically switch off when occupants vacate the area. And they'll need to be programmed to automatically adjust lighting levels based on time of day and available daylight in any given area.
The City of Seattle and the State of Washington are applying these guidelines as part of their efforts to reduce greenhouse gas emissions. They expect that for most facilities, the cost of installing or upgrading more energy efficient systems, like automatically controlled LED lighting, will be more than offset by lower utility costs that result from associated energy savings.
To further encourage building owners and operators to meet the energy codes, the guidelines offer flexibility for how building owners and operators can determine their compliance. It can be calculated using a space-by-space method, or a building area method. This lets users choose which method makes the most sense.
Either method requires builders, developers, and renovators to make choices about the equipment they install, and the infrastructure they choose. As the City of Seattle points out on its website, the goal is to make improvements that will help the state move toward a clean energy future. Additional updates will take that goal into consideration as well, meaning that any installed infrastructure will need to be flexible and upgradeable in order to meet future needs, and be eligible for future utility rebates and incentives as well.
The Enlighted IoT platform supports instant compliance with the newest Washington and Seattle energy code guidelines, and goes above and beyond current code requirements with energy-efficient LED lighting that can be programmed and controlled to meet stringent specifications for automatic shutoff, as well as occupancy, time of day and daylight harvesting settings.
Its user-friendly interface helps operators quickly commission lighting, and easily complete calculations to determine code compliance. And because it uses data- driven insights for lighting controls, it can be instantly reconfigured to meet current, and future code requirements, simplifying the process and reducing the need for costly retrofits and upgrades.
As energy codes change, their targets get higher. Installing a platform that can continue to grow and evolve makes sense, both economically and environmentally.
For example, Enlighted can meet:
Section C405.2 requirements for independently configured luminaires that monitor occupant activity to brighten or dim lighting when occupied or
unoccupied, or in response to ambient light
Section C405.2.1 requirements for occupant sensor controls to control lights in areas like classrooms, conference rooms and other office spaces
Section C405.2.1.1 requirements for occupant sensor controls that automatically turn off lights within 20 minutes of all occupants leaving the space, with manual controls to allow occupants to turn lights off themselves.
Section C405.2.2 requirements for time switch controls in building areas not equipped with occupancy sensor controls.
These are just a few of the requirements, and just a few of the ways Enlighted helps buildings comply. To get the full picture, download our full guide to Washington and Seattle energy code updates from our website.
To ensure your building project is fully compliant, or for guidance on how Enlighted can help you meet future energy code updates, please contact us directly.
---