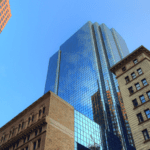 Enlighted One Wins Architectural Products 2020 Product Innovation Award
November 24, 2020
This November, Enlighted One was named as a 2020 Product Innovation Award winner by one of the architectural industry's most influential publications. Architectural Products magazine recognized Enlighted One for its powerful, out-of-the-box lighting controls and easy upgradeability into a full suite of IoT capabilities for buildings.
A panel of 22 designers and product specialists skilled in product evaluation chose Enlighted One for having "attributes, qualities, functionality and/or performance beyond industry standards," says Jim Crockett, the magazine's editorial director.
Architectural Products magazine sponsors the annual Product Innovation Awards to recognize manufacturers that deliver better performance, product life, and affordability within the fast-moving IoT marketplace.
Not only is the Enlighted One system easy to install, program, and commission, but it saves time and money by providing exceptional performance and code-compliant energy savings. It also enables an easy upgrade path to the full capabilities of Enlighted's industry-leading IoT platform for buildings.
Enlighted One is the first in a three-tiered menu of IoT configurations offered to Enlighted customers. While Enlighted One is largely focused on smart digital lighting, it is easily upgraded to deliver a broad range of IoT capabilities including BMS integration, space analytics, real-time location services, open APIs for third-party application development, and more.
Watch the Enlighted One video:
"Our tenth edition of the awards proves commercial building manufacturers are committed to, and are working arduously toward, delivering more sustainable products," says Crockett. This year's winners will be featured in the November/December issue of the magazine.
The feature discusses how the Enlighted One system goes beyond industry standards to provide energy saving code compliance that is scalable as a facility's needs change. Because the system can be installed right out of the box, and quickly programmed using just a laser pointer, projects execute faster, and more profitably, without a need for IT support.
Enlighted One provides advanced lighting control by using the world's most advanced sensors, pre-installed in new high-efficiency LED lighting fixtures, or easily installed in existing ones. The sensors communicate wirelessly to automatically adjust lighting to a range of four pre-configured lighting profiles and can be easily controlled from a wall switch. Enlighted One also turns off the lights off when not in use, and automatically adjusts light levels to take advantage of ambient daylight. The result is energy savings of up to 90%.
"Receiving this award is a special honor," said Mark Milligan, SVP of Marketing at Enlighted. "We are pleased to be recognized for the exceptional qualities of Enlighted One, which is easy to install, fast to program, and makes it simple to unlock an entire ecosystem of IoT applications whenever the time is right."
Enlighted One's lighting controls are code-compliant with ASHRAE 90.1.
Above and beyond lighting control and energy savings, Enlighted One creates a powerful foundation for further building automation and efficiency upgrades.
Construction Business Media, headquartered in Chicago, IL, is publisher of Architectural Products and Architectural SSL magazines. The company also co-owns and operates TheContinuingArchitect.com educational platform and maintains websites and electronic extensions of its print publications.
For more information about Enlighted One, contact us.
---