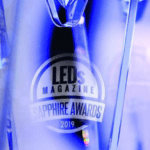 Enlighted Takes Home 2019 Sapphire Award
March 8, 2019
We are very proud to announce that Enlighted has won a Sapphire Award for the second year in a row. Enlighted's 5th generation IoT sensor was recognized as a lighting industry innovator with a win in the Smart and Connected SSL Enabling Technologies category.
Enlighted's Mike Caplan, Paul Davis and Solayappan Alagappan accepted the award at the 2019 Sapphire Awards ceremony. The ceremony was held on February 28th at Mandala Bay in Las Vegas during the Strategies in Light conference. The Sapphire Awards, hosted by LEDs Magazine, recognize innovative companies and individuals in the LED-based solid-state lighting (SSL) industry.
The Sapphire Awards program features exciting product developments across 19 technology categories that represent the entire LED and SSL supply chain. Winners were selected by an independent panel of 21 judges chosen from industry and consultancy roles and are based on a product's or solution's innovation, ease of use, efficiency, reliability, and contribution to profitability.
In 2018 Enlighted won two awards. Tanuj Mohan, CTO and co-founder, won the Illumineer of the Year award. We also won the SSL Smart Lighting Project award for a public school system installation in Cheshire, Connecticut. Enlighted provided upgraded LED lighting and advanced controls, resulting in less maintenance which meant fewer lamp changes, fewer expenditures and a reduced risk of injury to maintenance workers.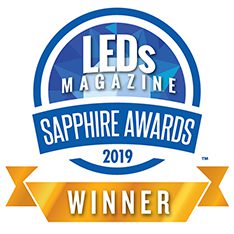 We also want to say congrats to all the other companies who won a Sapphire Award in their category – way to go! More information about the awards and the list of all the winning products and companies can be found here.
By Mark Milligan
VP Product Marketing & Communications
---