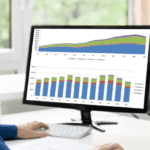 Inform Your Future Workplace Design With Space Management Data
October 7, 2021
Enlight's Insights Access data API combines employee preference with workplace utilization data to help you understand the best way to optimize your office spaces.
In this new era of hybrid work environments, most corporate real estate and HR leaders would agree that gathering insights from workplace utilization data is crucial to business continuity. When the value of the workplace itself is questioned, it is important to gain an understanding of how and why employees use the office.
Enlighted is introducing Insights Access – a new outbound data API – to help business leaders capture and analyze workplace data from various sources.
The Importance of Office Utilization Data in Workplace Strategy
According to a recent survey, 89% of executives believe that the office is still vital to the success of their business, but know it must change. In order to understand how it should change, business leaders should know how to leverage space utilization data to answer questions such as:
How much square footage do we really need?
What's the best configuration for our workspaces?
What types of spaces are in highest demand as we shift our working model?
Enlighted's API, Insights Access, provides you with the data you need to execute real estate portfolio footprint and office space design adjustments with confidence.
Through employee app engagement and IoT sensor integrations, Enlighted collects data to provide:
Comprehensive utilization data across your buildings, floors, rooms, and individual workspaces to help you optimize your portfolio size and reduce operating costs.
Employee preferences for space attributes to help you transform your workspaces into places relevant to hybrid work models. Understanding of employee intentions vs. behavior to inform workplace policy and portfolio strategy decisions.
While Enlighted's intuitive employee app drives safety, engagement, collaboration and productivity for your workforce, you'll gain a clear understanding of how your real estate portfolio should adapt to a new way of working.
For full details, view the Insights Access solution sheet here.
Contact the Enlighted team today at info@enlightedinc.com to get the data and insight you need to design a workplace that fits the needs of your employees today, tomorrow and in the future.
---