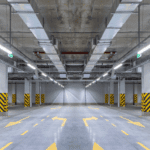 Introducing: The Enlighted Nipple Mount Control Unit
December 4, 2020
Lighting engineers and installers have long faced complex challenges when planning lighting controls for field applications. Field location accessibility challenges can add unexpected costs to projects, while operations managers must contend with a constant risk of weather damage to equipment. Despite these challenges, many municipalities mandate requirements for energy savings through LED retrofits and advanced controls, creating a need for sensor-controlled lighting that responds to environmental and usage conditions, and monitors energy usage in real-time, even in exterior locations.
Enlighted has responded to these challenges with a new Nipple Mount Control Unit. It uses sensor data regarding occupancy, daylight, and temperature to instruct the driver to adjust lighting levels, providing flexible and energy-saving lighting controls with exceptional reliability and security. In addition, the Nipple Mount Control Unit addresses installation, durability, and data challenges: the new Nipple Mount Control is a sleek unit that's not much bigger than a deck of cards.
The Enlighted Nipple Mount Control is available in two models. Choose based on whether the Enlighted sensor is mounted outside of the luminaire fixture or inside. With either model, installation is fast and easy. The external version (CU-4E-NME) is connected to the sensor via a standard RJ-45 jack and is intended to connect to remote or ceiling mounted sensors. The internal version (CU-4E-NMI) is connected to the sensor via a standard RJ-45 cable and is intended to connect to a sensor mounted in the fixture. Both models are plenum rated for mounting directly in ceiling spaces and the CU-4E-NMI features an outdoor-rated IP65 waterproof housing which stands up to the elements, maximizing each unit's lifespan and reducing replacement costs. Both models are part of a robust Enlighted system able to measure energy consumption to verify energy savings.
In addition to communicating sensor data about occupancy, daylight, and temperature to allow the LED drivers to adjust lighting energy levels, the unit itself contributes directly to energy savings by minimizing standby power consumption of each unit to less than 1W.
It also saves maintenance costs by generating fixture outage reports that trigger technicians to make prompt repairs, increasing occupant safety and comfort through consistent operations.
"Enlighted is pleased to deliver a top-quality, easy to install solution that will help engineers design and facilities managers maintain optimal lighting conditions while saving money, no matter where they need to be," said Mike Gershowitz, Enlighted's VP of Lighting and IoT Solutions.
To learn more about the Enlighted Nipple Mount Control Unit click here, or drop us a note at enlightedinc.com/contact/sales.
---