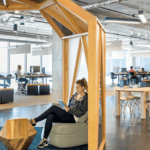 Investing in Workplace Tech? Here are 4 Things to Consider.
May 11, 2018
Creating a great workplace experience can be both a big opportunity and a major challenge for corporate real estate teams. With countless different systems, solutions, and technologies emerging in the market, it can be difficult to know where to start.
So, we sat down with Cisco Canada's Bill MacGowan to get his take on what real estate leaders should consider when taking the lead on workplace tech investments. Bill has over 30 years experience working on building solutions and is currently leading the smart buildings sector at Cisco Canada's HQ and Innovation Center in Toronto (also a Comfy client). Bill is a true expert in vetting, implementing, and evaluating solutions for the workplace.
Here's a glimpse into some of his key considerations when investing in workplace tech.
1. To attract and retain your talent, keep up with their expectations.
We only need to look at those companies leading the pack—both large enterprise companies and startups in the Bay Area—to recognize that creating a great workplace is a powerful move for organizations concerned with attracting and retaining employees. This is particularly true in the face of fierce competition for talent. In fact, studies on today's workforce show that young adults are willing to take a significant pay cut for better quality of life at work.
A few years ago, Cisco Canada decided to move their headquarters to the new RBC WaterPark Place, deemed one of North America's "smartest" commercial office towers. Why the move? Bill said, "We were losing talent to some of our friends like Google and Facebook" and the Cisco team realized that if they "didn't provide employees with mobility and choice…choice of space and the ability to control when they were actually in the environment, we would lose out to them."
In a world where workers are accustomed to on-demand services and hybrid digital/physical experiences at home, in transit, and on the streets, Bill has found that employees are increasingly wanting to "turn on some type of experience." At the end of the day, he says, "If the building does not resonate with the individual, the people will not come or they will not be retained."
2. Start with what your people want.
In the early stages of project planning for a new building or office space, there are two key questions Bill and his team consider: 1) what is the use case? and 2) what are the end-users expecting?
The answers to those fundamental questions are what must drive the overall strategy to ensure the chosen solution provides value to end-users and to the building tenant(s) and owner. Years ago, workplace managers were far more limited in their ability to customize a space, but today they have the opportunity to tailor almost everything in a given space—from the base architecture to interior design and the "digital layer" of workplace—to the specific needs of the occupants. "We start with use case and that then drives the whole idea of integration, app development, and what types of tech will support [it]," Bill explains.
Whether building an office from scratch, retrofitting, or considering other ways to optimize an existing space—anything implemented should serve as an enabler for that end-goal experience, "We all agree that people are really the power behind your organizations…and if developers don't get that right, then their business model is actually going to fail."
3. More collaboration between departments is necessary for success.
In the design, construction, and operation of a commercial building property, there are many different players involved, each with different set of goals and responsibilities. Historically, this model has worked well, with each group having clearly defined areas of expertise and focus. However, within the realm of workplace technology, those lines are beginning to blur—forcing us to break down those silos.
Many of the new tools and solutions available involve multiple parts of an organization (like IT, facilities, and HR), meaning those teams must come together to assess, implement, and clarify ownership. When initiating a project, Bill explains, "We're finding now that when we do a design shred, we have everyone in the room, and then we're all clearly focused on what that asset is intended to deliver."
For different organizations, that may mean creating new "hybrid" roles between different teams, hiring external consultants to facilitate the discussion, or simply (though not always so simple) fostering better ongoing communication between teams.
4. Data to inform is still a gap…and an opportunity.
With all of his experience researching and testing of different tools and solutions for the workplace, Bill has a keen eye on the building solutions market landscape, including the problems or opportunities that have yet to be sufficiently addressed.
The biggest gap he sees? Data. "There is a limited number of companies in the market that can integrate the data between siloed systems," Bill says. Meaning we've got different systems and tools—each collecting huge numbers of data points—most of which is unusable for real estate teams.
So how do we fill that gap? In Bill's opinion, collecting and connecting the dots in the data is going to be incumbent upon service providers themselves. It isn't enough to just provide a great tool. Solutions must to be able to seamlessly integrate with other tools and systems both to deliver immediate value as well as pull, pool, and serve up data in a format that's informative and actionable.
As an example, Comfy's partner ecosystem is a great example of how different service providers can come together to deliver a powerful and seamless user experience. Bill concluded, "We see the whole infrastructure of buildings changing to deliver data, more resiliency, and this all ties into a better value prop for the end customers."
Navigating and investing in workplace tech can be daunting, but we can learn (and take note) from innovation pioneers like Bill—those who are actively figuring out what's important, what works, and what's next on the horizon. "It's happening and it's happening quite quickly. We're at a tipping point, we really feel it now and it's time to take a leadership role."
If you're interested in hearing more on what's next in workplace tech with Cisco Canada's Bill MacGowan, tune into to CoreNET Global's full podcast.
---