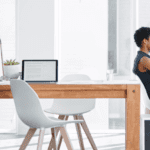 The Importance of Choice and Community in the New Era of Work
October 6, 2021
With 87% of employees saying that the office is important for collaborating with team members and building relationships, improving employee productivity, satisfaction and collaboration in a hybrid work environment has been a pressing topic for HR and business executives.
Building upon Flexible Spaces 1.0 core capabilities – workspace reservations, wayfinding, coworker location, and communication – Comfy's Flexible Spaces 2.0 offers enhancements to the employee experience in the workplace with its 'Neighborhoods' and 'Space Traits' features. From deciding when to come into the office, where to sit and how to easily collaborate with other team members, these new features fill key employee experience gaps in the new hybrid way of working.
Space Traits
The new Space Traits functionality allows employees to see the traits and characteristics of desks, rooms and other workspaces before reserving them. This not only improves productivity for the workforce, but also collects preferential workplace data so business managers can optimize office design and amenities over time. Business leaders can leverage data to ask questions such as:
What type of lighting is preferred?
What is the most common desk type?
How much square footage do we need?
What types of rooms are being used most or least frequently?
Do certain teams have specific preferences?
In this way, time series data of selected traits allow business leaders to implement data driven workplace decisions.
Neighborhoods
In a hybrid working environment where desks are unassigned and office workspaces are used as needed, coming into the corporate workplace can feel unproductive and isolating for employees. Comfy's new 'Neighborhoods' feature recreates these space-based opportunities of collaboration and community. With this feature, space managers now have the ability to assign certain desks, rooms and amenities to groups, intuitively guiding people to sit next to certain colleagues.
In addition to collaboration and community, 'Neighborhoods' can match certain spaces with the needs of a team member. Whether it be double screens for engineers, individual phone booths for sales, or huddle spaces for product design, spaces can be assigned based on available space features.
Watch the video below to see how 'Space Traits' and 'Neighborhoods' are incorporated on a regular workday by an employee using Comfy in a new workplace reality.
For more information contact the Comfy team today at info@comfyapp.com.
---