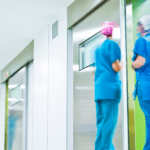 Verdantix Smart Building Innovation Award Goes to WWL NHS Using Enlighted Platform
December 2, 2020
Independent Research Firm Verdantix awarded Wrightington, Wigan and Leigh (WWL) Teaching Hospitals NHS Foundation Trust a 2020 Smart Building Innovation Award for its Thomas Linacre Centre project featuring the Enlighted IoT platform. WWL NHS FT won the Hospital Optimization category for its deployment of the Enlighted IoT platform to detect a variety of activities inside the hospital from motion to occupancy, temperature, ambient light, energy consumption and the movement of assets. The installation supported energy and maintenance savings and gave the Trust the ability to locate assets more quickly, resulting in better productivity.
"Enlighted has enabled us to reduce energy, better maximize space, conduct predictive maintenance onsite or offsite, and locate assets in real time, ensuring more time is spent with patients rather than searching for equipment," said Mark Hogan, WWL NHS FT Senior Operations Manager, Estates and Facilities.
To learn how WWL NHS FT implemented the Enlighted IoT platform, register for the Verdantix Event: Next & Best Practices: Learning From Top 10 Smart Building Innovators In 2020, on December 9. Mark Hogan will speak on the panel 'Next Practices For Future-Proofing Buildings' at 3:55 p.m. GMT.
WWL NHS FT installed 612 LED lights with Enlighted smart sensors and deployed the Enlighted Space and Where applications. The installation resulted in a predicted 80-85% lower energy spend, and estimated cost savings are £38,000 ($49,153 USD) per year, with a 4-year return on investment.
"We cannot address today's challenges by implementing today's technology," said Niko Kavakiotis, Head of Enlighted, Northern Europe. "The beauty of the engagement with the Wigan NHS Trust is the fact we addressed today's challenges with tomorrow's technology and solutions, allowing the Trust to set itself in a successful trajectory for the next decades; this is the power of futureproofing".
Verdantix 2020 Smart Building Innovation Awards recognize organizations that have implemented innovative technologies to enhance their facilities and real estate strategies, and the winners are selected by an independent judging panel.
"With a plethora of outstanding nominations this year, the 10 winners have proven their superior focus on smart building technology and innovation. By sharing their successful project plans and achievements, the award winners will help other organizations enhance performance across employee experience, operational efficiency and workplace safety," commented Verdantix Smart Building Research Practice Director Susan Clarke.
The National Health Service (NHS) is the healthcare system for the United Kingdom, established in 1948. NHS is the 5th biggest employer in the world and supports more than 1 million patients every 36 hours. Wrightington, Wigan and Leigh Teaching Hospitals NHS Foundation Trust is one of the hundreds of trusts that make up the NHS. It serves a local population of 326,000 in the North West of England, within the Greater Manchester footprint.
For questions about our project with WWL NHS FT, please drop us a note.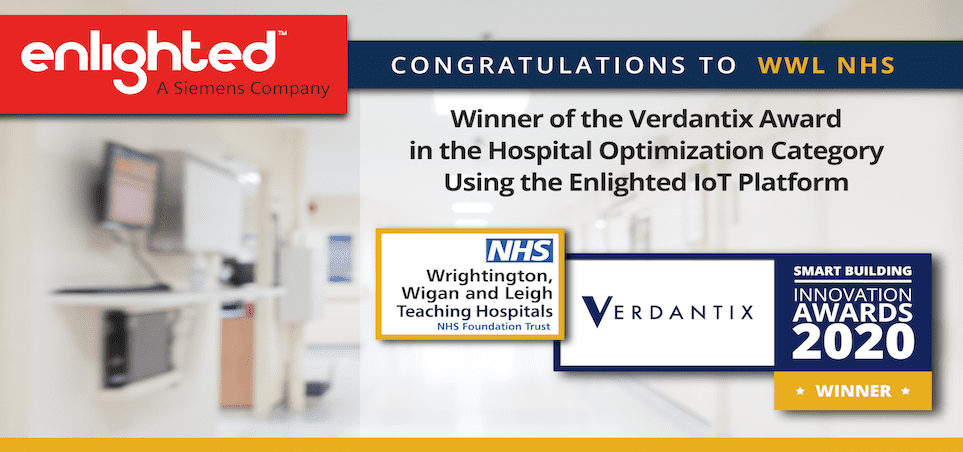 ---