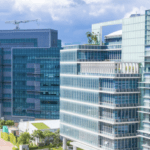 Workplace Data Insights to Inform the Future of Work
November 11, 2021
Enlighted's Insights Access API gives business leaders the ability to analyze data from Enlighted and combine it with other data sources utilizing their own business intelligence (BI) tools. By extracting time-series data, actionable patterns and trends emerge over time. A few of the potential use cases include:
Lower risk, higher impact real estate footprint contractions: Combining occupancy with real estate cost data to gain insight into where to reduce footprint or expand.
Increase employee productivity and overall satisfaction: Enable employees to choose how and where they work by creating characteristics for workspaces that fit the needs of the employee.
Optimize Amenities: Corporate amenities such as the office cafeteria can utilize reservation data to staff accordingly and allocate food portions, reducing food waste and overstaffing.
Space usage charge backs by business unit: Integrating Enlighted booking data with internal financial data to allocate real estate usage charge backs to specific business units or functions.
With Enlighted, building leaders can make better, more informed and flexible decisions about their real-estate portfolio while increasing productivity and satisfaction of their employees. Your organization will be enabled for sustainable, long-term space planning.
Learn more at this Solution Sheet, or contact the team at info@enlightedinc.com.
---