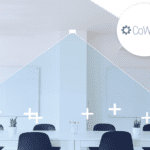 Learning from Live Occupancy Data with CoWorker Sensors
August 28, 2020
Welcome to Comfy's Partner Spotlight Series, featuring practical use cases and valuable industry perspectives from Comfy's robust ecosystem of integration and strategic alliance partners. Our partners' technology and services, in combination with Comfy's workplace technology platform, help global enterprise clients drive and scale their workplace strategies.
Comfy's partnership with CoWorkr, a Reno based IoT sensor provider, enables Real Estate teams to monitor live space utilization data to assess the effectiveness of their workplace health and safety initiatives, and deliver workplace experiences oriented around choice, transparency, and efficiency. The combination of CoWorkr's easy to install sensors and Comfy's Safe Workplace package can play a vital role in successfully returning employees to the physical office.
We spoke with Elizabeth Redmond, CEO and Co-founder of CoWorkr, about IoT sensor value in the COVID-era, the partnership with Comfy and more.
What changes are you seeing in the market around how customers are thinking about workplace occupancy sensors in the COVID era?
There are two significant changes. One is that customers are now looking at their whole portfolio and realizing that if they're going to capture utilization data, they need the data broken down to each individual space type and seat type.
Head count is definitely an important metric. Badge data is no longer granular enough and, as such, it's value of understanding how many people are showing up to the office, is limited. Now companies need details about where people are in the office, how many people are in rooms and if they're sitting next to each other. That's absolutely something sensors could always accomplish, but now we're able to evangelize that message.
The other change is around using the data at a different cadence. Historically, utilization data was used on a monthly or quarterly basis to make design decisions and transition the workplace. Now utilization data has even more value and applicability on a daily and real-time basis.
Therefore, we've created a feature – Daily Use Map. For instance, you can look at the map for janitorial services to drive the cleaning of all spaces throughout the office based on use and save on costs, significantly.
Using this same data set, Comfy and CoWorkr create a great partnership by providing transparency to workers. Showing what desks are currently being used and what desks have already been used that day. Enabling workers to select a desk that has been safely cleaned.
Transparency to workers is a valuable synergy between CoWorkr and Comfy's joint offering. Are there other aspects that excite you about this partnership?
I think it's been somewhat complicated for customers to understand the value in having multiple pieces of technology. But now, needing the live data is really speaking for itself, as people want to have visibility into where workers currently are located. You can't always rely 100% on opt-in scenarios like app-based check-ins to desks or rooms. To really create an effective return-to-the-workplace initiative, you need the live data and the tools in the workers' hands to close the loop between the building, its occupants and the people who are managing those spaces.
The story that we've all been telling together for a couple of years is now better communicating itself. That's definitely exciting. Long term, in the coming 10 years, I think there's a lot of interesting operational benefits for building management from a sustainability and health perspective.
Generally, I think these technologies, when combined, are definitely going to lead towards that workplace of the future.
What are some examples and use cases of customers who have used CoWorkr sensors? What benefits did those sensors provide?
Customers still think that sensors are future technology. Those who ramped up with us, realize just how easy it is to implement our solutions. When a partnership comes into play, we take care of all of the integration functionality. So, the customer just benefits from the end solution.
As an IoT sensor vendor, we do everything from the setup to the technical support, monitoring, and installation. That's a success point we've proven out with our customers.
A popular feature from the pre-COVID days was accomplishing room releases. Using our live streaming data is important towards helping people cancel room reservations if nobody shows up.
Also, you need live utilization data for desk booking. This can be a hard one for customers to wrap their heads around. There's a lot of misinformation around what live data means, but ours is down to the second. With that level of live data, you accomplish desk booking in an effective way. You can also open up spaces, like phone rooms and couches, to the search criteria because we know what is currently available at all times.
Have you calculated the potential ROI a customer may realize by outfitting their desks with CoWorkr sensors?
From an analytics and workplace strategy perspective, for ROI we use some of our most simple metrics, such as counting the number of vacancies on a daily basis. We count vacancies by space type and look at the peak occupancy. So, if you have a peak that never exceeds 60%, that's a difference of 40%. This determines how many desks are always vacant and leads you to conclusions around share ratios and density planning.
If we take a figure of ten thousand dollars per desk, per year, we've helped organizations mitigate leases on entire new floors. Or increase workplace density by 20% by eliminating spaces that aren't used and adding more of what people are using.
That gets into savings of millions or tens of millions of dollars. Whereas capital expenditure for our technology is maybe ~$100,000 annually. The ROI can be 10x in year one if we're aggressively accomplishing those density or waste mitigation goals.
Certainly, going into a post-COVID workplace where we're not anticipating utilization to increase and space density may actually need to decrease, there's still opportunity for people to reconfigure for optimal utilization.
How can customers use CoWorkr sensors to safely bring their employees back to the physical office?
Our perspective is that live occupancy data is critical. We've set up features around daily utilization so people have visibility into what has already been used today, and created alerts for spaces that are over capacity. For example, you can set up alerts to be notified if departments, workstations per floor, or conference rooms are over a set limit of 50%. Customers can leverage this to monitor their spaces and ensure workers are abiding by guidelines
We're seeing more interest in live occupancy data plus a desk booking app so that people can see where others are currently sitting. They may not want to sit next to a coworker because they don't want to expose themselves, unnecessarily.
What differentiates CoWorkr sensors compared to the other IoT sensors on the market?
Three points. First, ease of implementation. Our technology is super easy to install and doesn't require any calibration. Clients can even opt to self-install their own technology, which is becoming increasingly important as they don't want as many external contractors in the building.
Two, is live occupancy data. To our knowledge, we are the only vendor offering live data down to the second with battery-powered devices. This is accomplished via our hardware. Back in 2015, we had sensors that lasted three months. Now, our custom WorkPoint Sensors & WorkSpace Counters last over five years, running on a coin cell battery, while still delivering real-time data. Real-time has been important to us from day one and we have invested a lot into the design of our hardware and infrastructure to accomplish this.
Finally, all of our sensors are completely anonymous. We don't use any cameras or technology that could potentially do demographic analysis or facial recognition. Our sensors are all thermal, which allows us to sell into portfolios globally. For instance, in Europe where it's more sensitive. It's very important to our company as an ethos, that we don't collect any personally identifiable information.
We're excited about what we're putting into place with customers for 2021. I can speak for our industry of corporate real estate when I say that everyone across the globe is learning a lot. This design experiment is challenging us to all turn on our critical thinking skills and collaborate on execution.
---