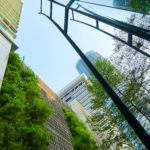 Sustainability Starts at Home – Results from the Enlighted Offices
In his recent blog, Enlighted CEO, Stefan Schwab challenges his team to 'walk the talk' and fully use Enlighted's technology in each of the organization's office locations to measure CO2 savings.
March 29, 2023
Energy savings and sustainability from digitizing the built environment are themes I write about often and care about deeply. I hear every day how our customers see this as the key to achieving their ESG goals towards 2030 commitments. Innovations around smart sensors, wireless networks, edge computing and cloud platforms have made it easier than ever to collect, organize, analyze, and act on building data. Insights from these technologies provide for better decisions that have a real impact on the environment. In 2022 I challenged my team to 'walk the talk' for us to fully use our own technology in each of our office locations and to share the results.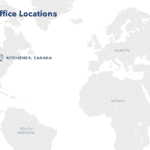 Enlighted's three global offices are outfitted with our intelligent IoT Lighting Solution, which provides occupancy-based lighting control, only illuminating spaces where and when they are occupied. Sensor data collected from this system helps us understand occupancy, energy savings, cost savings and CO2 reduction. We showcase our technology to customers and partners when in our office and share exactly how our technologies drive real outcomes. We easily understand and solve space issues, improve productivity, and advance sustainability, with data to drive insights and decisions.
Three Offices – Three Unique Needs
With our move to hybrid work many years ago, we now have three main offices: the corporate headquarters in Santa Clara, California, the global technology center (GTC) in Chennai, India and the IoT and software innovation hub in Kitchener, Canada. Each office has a unique focus and work schedule, requiring unique lighting needs based on various functions. Our system allows for individual task lighting levels and color temperature tuning so our employees can experience ideal lighting conditions for productivity, health and wellbeing.
We outfitted our three offices with Enlighted IoT sensor technology with firmware that detects movement, power, activities and even temperature changes. We connect these sensors to a wireless grid network that collects data at a rate of 65 times per second, subsequently sent through a gateway to the Enlighted cloud platform.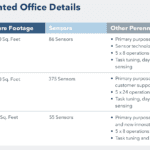 By setting up Enlighted's buildings for lighting and heating control with smart sensors, we've essentially blanketed our three office buildings with a sensing infrastructure – collecting massive volumes of data about movement and activities in every space that a sensor "sees". This data is used for occupancy-based lighting and can be integrated to HVAC for occupancy-based temperature control. Savings come from lighting or heating spaces only where people are occupying them.
We gain deep insights into how our space is being used, how our employees and visitors are interacting with spaces and how trends are changing over time. With this ability, built environments like ours are playing an active role in helping determine the best way to use space for the benefit of the business, the occupants, and the planet.
Intelligent Lighting Controls
Our teams took advantage of easily setting and adjusting occupancy sensing, task tuning, and daylight grouping and harvesting, depending on thesituation at each location:
Occupancy Sensing – Lighting automatically adjusts based on occupancy. When a room is vacant, lights turn off or dim to programmed levels, and turn on to programmed levels when occupied. Most of Enlighted spaces fall into this category to save the maximum amount of energy.
Task Tuning– Many spaces are over lit, and you may not even realize it. Task tuning gives you the opportunity to dim your lights to a more appropriate levels based on use and saves energy in the process. For example, an Enlighted storage area doesn't require 100% brightness when occupied – 75% or less is acceptable in those spaces.
Daylight harvesting – Daylight harvesting is another way the system automatically adjusts to save energy, leveraging existing daylight whenever possible.
We view our energy insights via the Enlighted Manage Dashboard to understand energy usage and savings. Our facilities team uses the tool to understand the baseline and to see how the three components are working to help us meet our energy saving goals. We meet quarterly or when there is major floor space reconfigurations to review the dashboard and results.
Corporate HQ Santa Clara, CA
The Santa Clara, California office set up aggressive task tuning with all fixtures tasked at 80%. Timeout is set at 15 mins for most of the conference rooms. For open office areas, the timeout varies between 1-15 mins depend on the areas and time of day as this office is mainly for collaboration and hybrid work. Daylight harvesting is enabled here as there are many windows and there are over 260 sunny days a year.
Diagram 3:  Corporate HQ Santa Clara, CA Manage Dashboard showing CO2 savings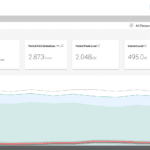 GTC, Chennai, India
The GTC in Chennai, India office is located on three floors and came online in February 2022. A significant portion of the employees work on our support operations team – running 5 x 24. In Chennai daylight harvesting is activated in all corner sensors close to windows on all three floors. Aggressive task tuning is used for maximum energy savings with the 5 x 24 support operations in this location.
Diagram 4: Chennai, India Manage Dashboard showing CO2 savings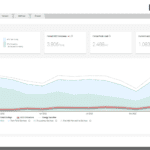 Kitchener, Ontario, Canada
The Kitchener, Ontario office came online in November 2022 and is the center of our technical product development and innovation. As the office was operational less than 2 months in 2022, it's too early to show a Manage Dashboard for this location. The Canada Innovation hub is leveraging task tuning and occupancy sensing but isn't utilizing daylight harvesting as the office is an interior office so occupancy sensing and task tuning are the areas of greatest savings. The office saved 1.957 tons of CO2 in the short period of time tracked.
The Results are In: Enlighted Sustainability for 2022
I'm pleased to share our impressive results, which are in line with those of most of our customers: we saved 60+ tons of Co2 and achieved 89+% energy savings across our three offices in 2022. I anticipate further improvements based on updating our settings and continuous improvements based on our learnings.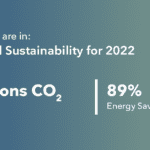 In addition to the Enlighted Lighting Solution implementation, the Santa Clara office also became the pilot location for our Location Intelligence solution, a Real Time Location Services (RTLS), used for tracking high value equipment and personnel with asset tags and badges. The office is a 'living lab' to showcase Location Intelligence in action, with the ability for live demonstrations.
It was important to me that we took our commitment to sustainability seriously, as it drives our mission and vision for the company. As part of Siemens, with a 2030 goal of carbon neutrality, we needed to demonstrate our part in that journey. The implementation of our solutions across our campuses demonstrates that proptech really works to contribute to a better, more sustainable planet.
Learn more about Siemens sustainability initiatives here.
---