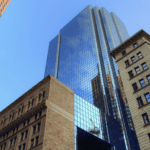 Agile Workplace Tips from Top Corporate Real Estate Leaders
October 23, 2018
In a world where employee expectations of the workplace are rising and hyper-connectivity has become the norm for both in-office and remote workers, it's clear that the traditional vision of the fully-occupied, cube-filled office has gone out of style—fast.
Over 42% of office space goes unused, while the cost of the space keeps rising, according to Cushman & Wakefield (C&W). Tack on low employee engagement numbers globally and an increasingly competitive market for talent, and it's no wonder companies are aggressively experimenting with the "agile workplace." Providing employees with more diversity in where and how they work allows real estate teams to increase the overall density (and therefore utilization) of existing space. By trying out different combinations of workplace designs, layouts, and tech, real estate teams are hoping to bring more employees into the office—and incentivize them to stay there.
So what can we learn from the many leading companies testing out this strategy?
We recently attended this year's CoreNet Global Summit, where corporate real estate leaders from Coca-Cola, LinkedIn, Capital One, Siemens, Cisco, McKesson, McDonald's, Microsoft, and more, shared their trials and tribulations on turning the agile workplace into a reality. With over one hundred sessions dedicated to everything from measuring employee engagement to workplace design to the future of smartphones in real estate, this year's summit offered many key nuggets of wisdom for real estate leaders. Keep reading for a few of our favorites.
An intelligent experience matters
Sure, everyone feels the epic (and often overwhelming) integration of technology into all aspects of modern life, but for real estate managers focused on attracting and retaining talent, finding the right balance of tech in the workplace is critical. "Millennials are not job hoppers, they're experience hoppers," explained Bryan Berthold of C&W.
Today's workers "just want it to feel like it is at home," said Christian Bigsby, VP of Workplace Resources at Cisco Systems, in a session dedicated to the role of smartphones in the next frontier of intelligent workspaces. "They simply expect a more intuitive experience."
The tech on display at CoreNet certainly mirrored that sentiment; from full workplace experience apps like Comfy to the broad range of occupancy sensor technology to smart water machines, real estate managers have more consumer-friendly workplace tech to choose from than ever before.
So how to evaluate your options? Take a cue from all of those super useful (…and highly addictive) apps on your smartphone, and put the employee experience first. Regardless of the technology, any workplace solution should meet the user where they are, leveraging both predictive learning to anticipate what the user wants and smart automation to deliver real-time, contextual responses. Whether you're trying to deliver amenities, conference room booking, or personal comfort on-demand, an intelligent experience is paramount.
Don't underestimate the impact of change
Though change can often feel overwhelming, when it comes to adapting to the needs of the modern workforce and keeping up with older buildings and rising costs, change is necessary—and it was clear from many CoreNet panelists that those who don't manage it well will flounder.
Workplace leaders from McKesson and its partners from CBRE and ASD|SKY led a session on their successful execution of a brand new, inspiring workplace at a 500,000 sq. ft. campus in just under 12 months. Kathy Grams, McKesson's Sr. Director of Workplace Technology, explained that by getting executives, (who were generally more skeptical) in front of the champions early, they were able to get buy-in for the entire initiative faster to meet their ambitious deadline. "Use the squeaky wheels to your advantage," she told the audience.
We also heard from multiple Fortune 500 companies about their failed attempts at implementing free address, or hot desking, across their facilities. The biggest reason why they fail? While the higher-ups may have been bought in, there was a gross underestimation of how important getting key stakeholders—HR reps, department heads, office managers, EA's as well as employees—on board with the program. When the champions and higher-ups fail to build buy-in from the ground up or get early feedback on what employees will need to be successful in a new agile working world, even the most innovative plans can quickly flop.
Not all vendors are created equal when it comes to leading the change management necessary to drive new initiatives to success within large enterprise organizations. Our advice? Make sure that whatever partner you're working with has a strong track record in change management at large enterprise organizations. Have they successfully deployed technology across large real estate portfolios? Do they have a plan to ensure everyone from the executives to the engineers know what to expect when the tech is turned on? Don't underestimate the strategies and best practices that go into making large workplace transitions successful.
Future-proof your tech stack
It's incredible what a difference a year makes in the world of workplace innovation. From the aforementioned smart water systems to office robots, there's no shortage of innovative new tech promising to improve the employee experience and help save money and time. Yet, as two managing directors from JLL mentioned in their session on balancing digital transformation with CRE strategy, it's critical to "focus on the technology stacks, and not the flash-in-the-pan trends."
Ok, so maybe office robots are more on the trend-side of the equation. So what's the best way to think about your tech stack overall? Two words: consider tomorrow.
A lot of innovative tech will make a big difference for your employees and your bottom-line today. However, there are a few specific tech models—like SaaS— that inherently guarantee more value immediately and over time. "Apps give you a chance to try something new, to figure out the ones that deliver value," advised Bigsby from Cisco Systems. And certain smart building solutions (like Comfy) are 100% vendor-agnostic, so that they will always drive value regardless of what building tech you currently have or will have in place in the future. So with any chosen solution, be sure to evaluate how "future-proof" it is, in order to ensure its long-term success.
Thanks to the CoreNet Global team for a terrific 2018 summit, and to all the real estate leaders who spoke so openly and candidly on panels about their experiences "exploring the uncertainty" of today's evolving real estate market. And if you didn't catch up with a Comfy rep while in Boston, be sure to chat with us today. of the latest features in our workplace experience app.
---