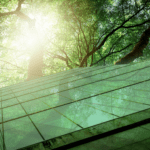 COP 27 –Time for Action to Decarbonize the Built Environment
December 22, 2022
World leaders came together in November in Egypt for COP27 with an agenda toward achieving the world's collective climate goals. And once again it was a reminder of how much work remains to be done to combat the worst effects of climate change. The 190 countries that attended COP27 agreed that urgent action is an imperative if we are to have substantial impact against the already momentous damage of climate events worldwide, but again it fell short with too little progress due to public and private entities pursuing highly different and sometimes conflicting agendas.
The impacts of the building industry were featured more prominently at COP27 and reducing energy consumption in buildings emerged as a key COP27 topic. To stay on track with global net-zero targets, the building industry needs to cut its emissions in half by 2030, according to the International Energy Agency. There is growing consensus globally that the built environment needs to play a critical role as a solution for zero emissions future. Now, 158 countries have included energy efficiency in building decarbonization in their national commitments – a significant uptake from prior conference years.
While the direction established at COP27 is a tremendous step forward, I believe more urgent and immediate action around the built environment is required if the goal of carbon neutrality by 2030 is to be achieved. It's the time to act on buildings emissions and matching it with action, regulation and continued public and private investment.
Here are three takeaways, post conference:
Real estate is a critical part of growing efforts to decarbonize our planet
According to the World Economic Forum, buildings are responsible for 40% of global energy consumption and 33% of greenhouse gasses. Large global organization manage significant real estate and commercial portfolios as part of their ongoing operations. The choices made around energy conservation, the use of renewable energy sources and even portfolio right-sizing can change the tide of climate change – but only if applied aggressively, holistically and immediately.
Digitalization of buildings is the key to decarbonization
Digitalized built environments are the key to achieving both profitability and sustainability goals. IoT building technology innovations around smart sensors, wireless networks, edge computing and cloud platforms create an ecosystem to optimize building energy consumption and improve the well-being of the people who occupy them. Further, data from digitalized buildings can be leveraged to understand utilization for the purposes of portfolio contraction, where appropriate. IoT driven building solutions can be implemented to retrofit existing building infrastructures and are rapidly becoming a requirement for new construction.
Sustainability as a Win-Win for Business Leaders
Many business leaders are looking to drive down costs in a constrained economic environment, potentially postponing important sustainability programs. However, this short-term thinking is flawed when it comes to energy consumption and sustainability. Business leaders must consider their built environments and their impact on the larger global emissions landscape in the long term, while serving the needs of investors and guiding boards. Fortunately, organizations can take steps to make those buildings more efficient through investments in smart building technology that will pay off today and for the future. Government sponsored sustainability incentives and tax rebate programs help to further drive the right actions and new ESG investor rating systems reward forward-thinking public companies. Against this backdrop, leaders can leave a lasting positive impact on the environment while being responsibly attentive to the bottom line.
2023 – The Year for Bold Action
A new year is here, and I urge my fellow leaders to consider making 2023 the year they become serious about sustainable business operations. Instead of slowing the march to planet health, double down in a win-win scenario that requires long-term vision, steady leadership and bold moves forward. It's time for organizations to apply new and existing technologies to their built environments to make the future of business operations both environmentally and economically sustainable without compromising employee wellbeing.
---