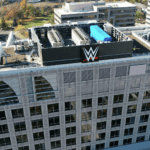 WWE – World Wrestling Entertainment
WWE chooses Enlighted for heavy weight energy savings, productivity and sustainability.
Customer Profile
WWE is an integrated media organization and recognized leader in global entertainment. WWE is committed to family-friendly entertainment on its television programming, premium live events, digital media and publishing platforms. WWE's TV-PG programming can be seen 52 weeks a year and in more than 1 billion homes worldwide in 25 languages.
Space Types
Office, Studios, Warehouse
Challenges
Energy Savings, Sustainability, Productivity
Challenge
With the size and complexity of space types, the WWE needed to understand and optimize its real estate footprint with data driven technology. WWE has a long term sustainability goal to be carbon neutral as well as to maximize productivity of their spaces for employee wellbeing.
Solution
As part of a major renovation and digital transformation initiative, the Enlighted smart lighting control system with almost 2,000 sensors over a wireless, fault-tolerant network is the foundation for WWE to enable:
Enlighted Lighting Solution: Occupancy-based intelligent lighting control with flexible configurations for task tuning, daylight harvesting, and efficient lighting of WWE spaces will result in bottom line energy savings and progression of WWE's carbon neutrality.


Enlighted Data Services: Collecting data 65 times per second from sensors that measure movement, temperature and power, WWE will use specialized visualization dashboards to derive key insights for space design decisions.


Location Intelligence: WWE will use the same lighting sensing environment to reliably track assets, ranging from high value assets (memorabilia, collectibles) to operational assets (mail carts, merchandise samples, packages) in real-time for movement analysis and improved inventory management.
Results
WWE will solve multiple IoT use cases and utilizing the open APIs, WWE will have central management, a 'single pane of glass' into its headquarters' operations.
Self-service Community
A suite of tools for design, quote, and order requests