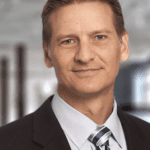 Leveraging IoT to Meet Rising Workplace Expectation: Q&A with WSP's Herbert Els
May 13, 2019
How can workplaces meet the needs of today while anticipating future requirements? And how do we measure the actual value of the investments made in the workplace environment? From global financial and high tech clients to large property developers and facility operators, globally-recognized engineering and professional services firm WSP has advised many of today's top companies as they wrestled with this very question.
As the national practice leader of WSP USA's Director of Specialty Services group, Herbert Els is also the principal in charge of WSP's ThinkBOLDR concept that strategically advises clients on the business value of SMART and the role IoT plays. He champions a humanistic approach to designing, constructing, and maintaining buildings using technology as the enabler, Herbert's leadership ensures WSP clients realize value from their investments in building technologies.
We sat down with Herbert to discuss how leading companies can address rising workplace expectations, tackle agile working and space utilization challenges, and adopt workplace technology that enables employee productivity—read on for his perspectives below.
Everyone is talking about how the workplace is changing. What's one of the biggest shifts impacting your clients today?
The expectations from people who come to work and the people who are responsible for operating the workplace has changed dramatically in just the last ten years. Workplace expectations today are consumer-driven and mobile-centric. As consumers, it's become much easier to communicate with our family and co-workers. We've become much more adept at the convenience of using touch interfaces and are accustomed to feeling in control with all the information at our fingertips.
Take for example how your interaction with your TV at home has changed over the years: we used to have to get up to change the channel on the TV set, then we had the remote control, then we could schedule to record our shows in advance, and now streaming services will actually recommendprograms on-demand that we might like.
We have this enhanced experience at home, but when we get into the office, it's like taking a step back in time. This disconnect between consumer expectations and workplace experience has grown very quickly over the last few years. People are coming to the office with much higher expectations, and when they're not met, they become frustrated.
And, what role is WSP playing in helping companies address the challenge of rising workplace expectations?
WSP plays a very unique role with clients that extends beyond the traditional role of engineering firms. We see ourselves as playing a stronger role in the consulting side of a consulting engineer. WSP starts working with clients before a project is even defined, so that we can begin to advise around business goals and align our clients' roadmap across their business sectors. We help clients strategize around their challenges, and work with them to see how IoT can enable a much better environment. For example, solutions like Comfy can provide control and convenience back to people—be it the experience for the people working in the space, the building operators running the building, or the real estate teams optimizing the utilization of the space.
As an outside consultant, WSP advises in-house business units like IT, HR, facilities, and real estate, who are often very focused on operations and don't have time to explore what else is going on in the industry. For example, in the past, companies relied on occupant surveys that weren't especially helpful for understanding whether a workplace design is working well for employees or not. Business leaders are just now starting to realize that they can get much more useful information from their occupants through technology that didn't exist before.
WSP can help our clients understand the value of an IoT-enabled connection between the occupant and their workplace. We created the ThinkBOLDR Innovation Center to demonstrate and test how technology can create a more human-centric building experience. And show how solutions like today's sensor systems and interactive apps, like the one Comfy provides, are available today and quite accessible. They're not going to cost much more than your current budget, and they will provide a lot of value in terms of supporting the occupant experience.
"Solutions like Comfy can provide control and convenience back to people—be it the experience for the people working in the space, the building operators running the building, or the real estate teams optimizing the utilization of the space."
Many companies are dealing with the scarcity of space conundrum — everyone feels like there's never enough space, but there's also a lot of unused space. How did this become such a big issue?
Over the years, workplaces have moved away from private offices. We have always had cubicle spaces, but over the last ten years those spaces have become much smaller, with more people packed into the same footprint of workspace. Tech companies started the trend of creating denser workplaces while introducing more shared amenities and the concept of unassigned seating to accommodate agile working. Financial, engineering, and law firms, also impacted by increasingly mobile workforce, started adopting an agile working approach to drive down real estate costs.
Unfortunately, this led to scarcity of personal space and scarcity of breakout spaces for small meetings or brief phone calls. Which makes the feeling that there's not enough space available one of the most common employee complaints today. To make matters worse, employees will often book a space in advance for a potential call or meeting, and don't update their booking if they don't end up actually needing the room. So when their co-workers look at the calendar, it looks like all the spaces are booked. But when workplace professionals run their analytics, there's actually no one in these spaces, just a lot of booked spaces that are unoccupied. This causes a lot of frustration for everyone.
What role can technology play in alleviating this frustrating experience?
Solutions like Comfy are huge for agile working. For example, I can use Comfy's app to book my space and see exactly where I need to go. I can sit by my teammates. I can immediately see what's available or not. I can even mark my favorite spaces.
Everyone is familiar with the anxiety of not being able to find a space when you need it most. Just the other day, I was driving to the airport and worried "Will I find a parking space in time? Will I miss my flight?" Many workers today are experiencing that same type of anxiety in their offices. Workplace technology can take away all that anxiety by giving some of that control back to people and provide a greater sense of personalization. With unassigned seating, your workstation today is not your workstation tomorrow. Technology can grant some of that personalization back. And, at the same time, because of providers like Comfy's backend integration with digital workplace solutions and building management systems, workplace professionals can see where they need to invest to make the workplace better for their occupants.
What do you see as the business case for investing in this type of humanistic environment?
The job of a workplace professional is to create a workplace that keeps people productive. They don't make a product; people are their product. It doesn't matter what industry you're working in. The war for talent is intense. It is hard to quantify productivity, but we know we must create an environment where people can thrive.
Let's say I'm sitting at my desk in an open office, and I get a call from a client that needs to be confidential. I need to jump up and find a room NOW. I can't waste time walking around looking for a space. Companies must alleviate these types of workplace pain points and frictions that waste time. In the end, it will cost them a lot more if they do nothing, because they will end up with unhappy employees in unproductive environments.
My advice to companies: Get the sensors into your space. Get an occupant-facing platform and start learning from it. Make that little bit of initial investment now because it is the future. It is where the industry is going, and you will see real value in implementing it.
Speaking of the future, what are some of the technological advances that you're most looking forward to?
What I get really excited about is actually the moment when technology can fade into the background, and actually do things for me automatically and intelligently. It is ultimately about what technology is doing for people, and technology that truly enables the experience. This is what gets me excited—seeing how intelligent solutions like Comfy and others can ultimately lead to more meaningful human interactions.
Top companies around the world see the value in improving the workplace experience, but how they often need help getting there. Rising employee expectations, misallocation of space, and unexpected technological advances are hefty challenges to tackle. Trusted advisors like WSP and Comfy can help.
---