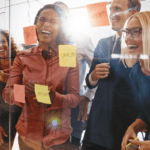 Our Journey to 2017 Company of the Year
December 18, 2017
We are proud to be honored by The Technology Headlines as "Company of the Year 2017" in the smart sensors category. The Company of the Year issue sheds light onto how certain companies have created a loyal customer-base, sound marketing strategies, and innovative products and services throughout the years.
The issue takes a peek into Enlighted's story and what led us to be an innovator in the IoT industry today. Read a short excerpt below, and learn more about our journey to Company of the Year 2017 in The Technology Headlines' latest edition.
For years, Tanuj Mohan – a spirited individual in his late twenties, found himself programming alone at night optimizing code to achieve the last bit of performance while sitting in a fully lit and air-conditioned building. Seeing the daily wastage of resources, Tanuj applied his networking skills to find a solution to the problem. As time passed, he saw the onset of cheap, powerful microprocessors, ubiquitous wireless, and LEDs, and felt this was the right time to bring IoT and network managing concepts to the commercial market place. Tanuj co-founded Enlighted, a company dedicated to redefining smart buildings with its first-in-class sensor and data analytics IoT platform.
---