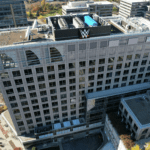 WWE Champions Energy Savings, Productivity and Sustainability
May 23, 2023
While growing up in Germany, I was keenly aware of the popularity of professional wrestling with their colorful characters I followed such as the Rock and the Undertaker. Fast forward to 2023 and the WWE has transformed into a global media company with an extremely loyal fan base that is in over 180 countries, 28 languages and 1 billion viewers globally. I am proud to share that Enlighted and the WWE have partnered to make their new headquarters the ultimate data-driven building, which goes beyond smart.
The new WWE headquarters in Stamford, Connecticut is comprised of over 400,000 square feet of multi-purpose space including office space, studios, production and post-production facilities, conferencing, event, and outdoor terrace spaces. With a broad set of space types and the complexity of the WWE operations – it is essential for WWE to understand and optimize its real estate footprint.
By using Enlighted's IoT Lighting Solution as the foundation, the WWE will realize enormous energy savings, increase operating efficiencies, and will use IoT data to capture building activity for intelligent data-driven space decisions. Additionally, they will leverage Enlighted's Location Intelligence, an IoT based asset tracking for high value assets, for keeping tabs on memorabilia, operational assets and improving process flows, making the headquarters truly a connected building.
Our project with WWE is an exceptional one for Enlighted as it's with a partner who is a technology innovator with the same mindset on data and how it can be used to achieve goals. The richness of the WWE building data is utilized beyond sustainability, providing insights into space utilization, the interaction of employees with their environment and how to maximize the productivity of the spaces for employee wellbeing.
To learn more, please see the press release and WWE customer page.   
Enlighted is excited to partner with WWE to bring to life their goal of creating a truly iconic and sustainable headquarters and beyond.
---